Regeneration of ion exchange catridges
Our Service
We regenerate ionic exchanger resins following correctly sorted separation and strict quality standards.
We refill reusable catridges by all producers (Miele, Seradest, Siemens, Behr etc.) with regenerated mixed bed ionic exchange resins. Our ionic exchangers provide demineralized, deionized water for analytical purposes, the washers' as well as the laboratory's general maintenance or for the industrial production.
Our clients come from various area: for instance the analytical area, industry, gastronomy, pharmacy, home automation and chemical laboratories.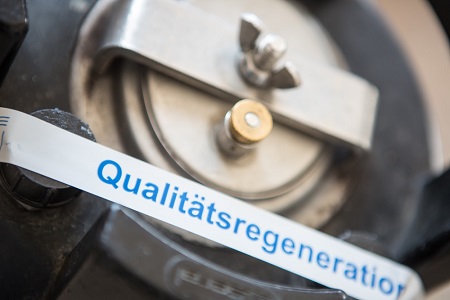 Our Resins
Our resins are of high quality regarding their substitution velocity, capacity and mechanical stability. Due to their advantageous features, our resins are nearly infinitely regenerative. The patrons regenerated with our resins can reach a water purity of up to 0,1μS. They meet th chemical-phyical norm ASTM type 3.
A sophisticated water circuit inside of the ion-exchangers makes the water definitely bathe the resin entirely. Like that, the system achieves a maximum capacity with minimal amounts of resin.
Your Advantages
Regeneration of all fabricates' cartridges
Our management system is certified with respect to DIN EN ISO 9001:2008
Pick-up service and delivery directly to the lab in the Augsburg/Ulm area.
Quick return delivery in 2 to 5 workdays
Reliable regeneration-service with high quality resins in our Gablingen workshop
Ideal values of efficiency factor, substitution speed and mechanical stability
Exceptional prices for regenerations of 5 or 10 cartridges
It would be a pleasure for us consulting you regarding the purchase of ion exchange cartidges and accessories