Incubators - Culturing Units
For culturing bacteria or yeast strains in the dairy and food industry under definite terms.
Microprocessor-controlled program unit for max. 50 programmes with 99 steps each.
Bath made of white PP, outstanding thermo-insulation characteristics, digital display of actual temperature and remaining time of actual program step. built-in circulation pump
complete including culture vessels stainless steel with lid and stirrer, mother culture flasks 500ml, support stand of anodized aluminium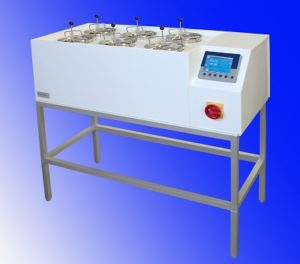 More designs on request!
Instruments can be optionally equipped
with pH-control/PH
with 2-channels-recorder for pH-/temperature protocol/PHR